The Bridge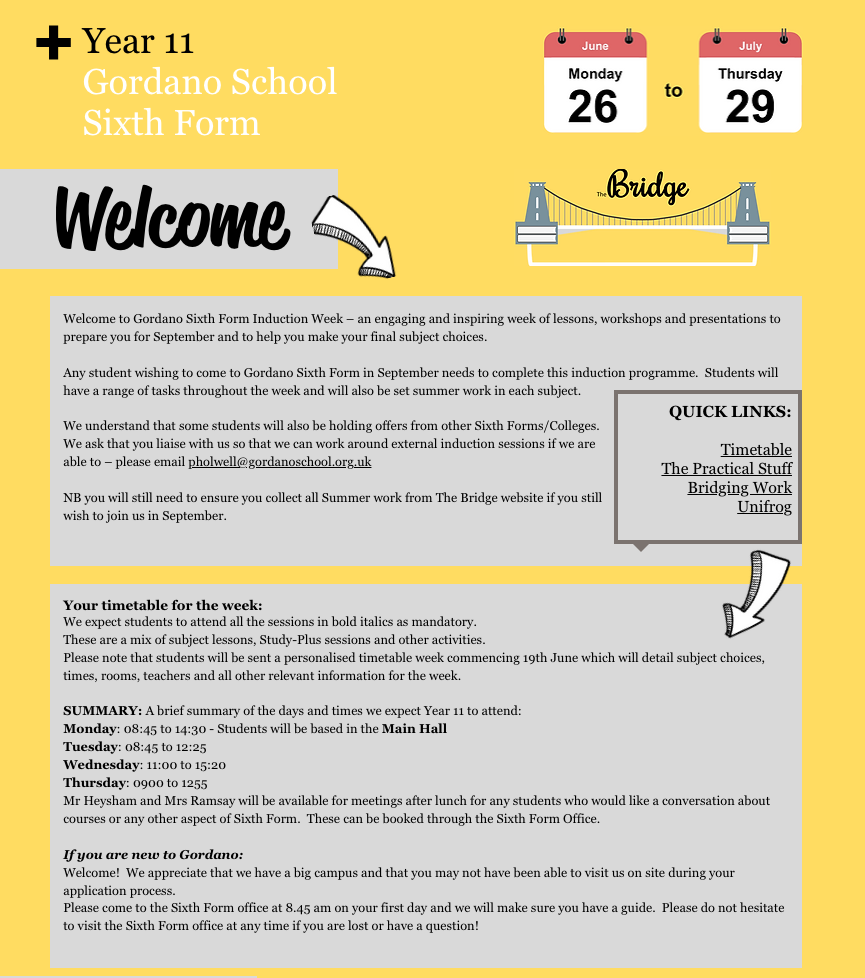 All students currently in Year 11 choose the pathway best suited to you and your career aspirations. For more details click your Year group below for more details. Or follow this link.
If you have any questions please email: pholwell@gordanoschool.org.uk
Year 11
The Bridge contains materials from our two-week transition programme to allow all Year 11 students to prepare for their next steps The Bridge offers opportunities to learn new skills, work with new student groups, teachers and external contributors and to focus on wellbeing at the end of an unprecedented academic year.
Everyone is welcome to register - even those not staying at Gordano, please register for the events you wish to attend. If registration is completed by May 28th we can refine our final offer.
The Bridge Programme: For students joining Gordano Sixth Form click here. Our expectation is that all timetabled subject lessons are attended (students will attend one taster and 4 sample lessons in each of their chosen subjects). Students will receive a personalised timetable on the basis of the options they have applied for. Here Students are also able to sign up for optional sessions on Eventbrite (joining instructions on the site). These places are offered on a first come first served basis. Please note that if students are still holding more than one Post-16 offer, they are required to attend The Bridge programme if they wish to keep their Gordano application open.
Electives: (our extra-curricular offer providing recreation and employability skills) During Bridging Fortnight, students will be asked to shortlist their Autumn elective choice from a menu of over 20 activities.