New World of Work Insight Talks - Book Now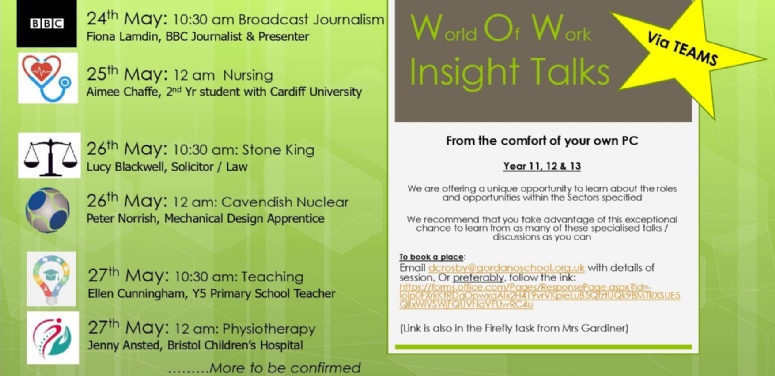 The Careers team are pleased to announce six more World of Work Insight talks covering broadcast journalism, nursing, law, mechanical design, teaching and physiotherapy.
As before, we plan to run the event remotely through our Teams network. These talks are aimed at Years 11, 12 & 13 students.

Dates for the Diary:

- Monday 24th May at 10.30 - 11.30 am - Broadcast Journalism with Fiona Lamdin, BBC journalist & presenter
- Tuesday 25th May at 12:00 noon - Nursing with Aimee Chaffe, 2nd Year student with Cardiff University
- Wednesday 26th May - 10.30 - 11.30 - with Lucy Blackwell from Stone King Law
- Wednesday 26th May - 12:00 noon - with Peter Norrish of Cavendish Nuclear
- Thursday 27th May - 10.30am - Teaching with Ellen Cunningham, Y5 Primary School Teacher
- Thursday 27th May - 12:00 noon - Physiotherapy with Jenny Ansted, Bristol Children's Hospital

Booking available by either an email to dcrosby@gordanoschool.org.uk Or ideally by following this link: https://forms.office.com/Pages/ResponsePage.aspx?id=-Iolp0FXrkKtRDgOpwxaAIx2H419vrVKpieLuB5QfztUQk9BMTRXSUE5QlIxWlVSWjFQUVNaVFUwRC4u

Please encourage your son/daughter to book early.