Gordano Staff Fully Embrace Covid 19 Mass Testing Challenge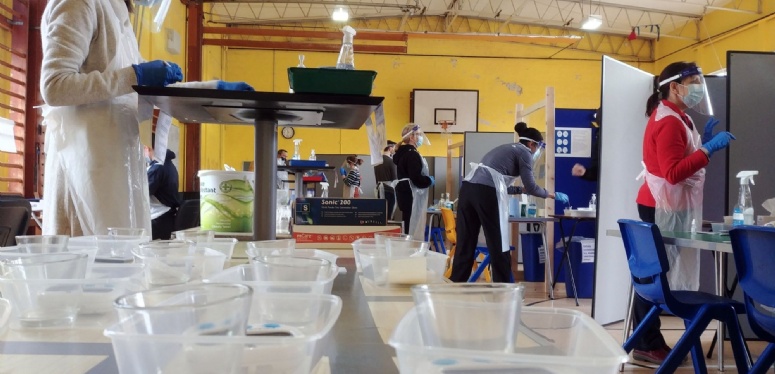 As one of the largest secondary schools in North Somerset, Gordano's leadership team were well aware of the challenges that lay ahead for CV19 mass testing. Our team have fully embraced the task and we would like to thank everyone who has helped us to deliver an efficient and effective mass testing facility, to enable students' safe return to school.
From the moment Mr Inman sent out a request for help as to whether anyone could assist, a number of Gordano support and teaching staff stepped forward to offer their assistance and time.
From an admin perspective it was necessary to collect and process nearly 2000 consents from parents and carers, staff were trained on testing procedures and also shared this knowledge with a number of new recruits, many of whom were Gordano alumni. The Gym has been fully re-purposed as a testing facility, thanks to our industrious site team and six booths have been set up to test over 300 students per day, with a different Year group coming into school each day of the week. The team of 40, made up of rotated staff members and some external recruits are working together daily, from Monday through to Saturday, ensuring each Year group has received three tests prior to commencing home testing on 25th March. Already over 95% of Gordano students have now had their first test.
Mr Inman commented: "It has been heartening to see so many of our current staff step forward to offer their time and embrace a very different role to their normal day jobs, while also supporting each other, our students and several new recruits. The team have worked well to get the necessary tests done and results delivered, their tremendous efforts are helping to ensure our students a safe return to school. Well done to everyone involved and many thanks for your continued support at this challenging time."