Gordano School Marks Holocaust Memorial Day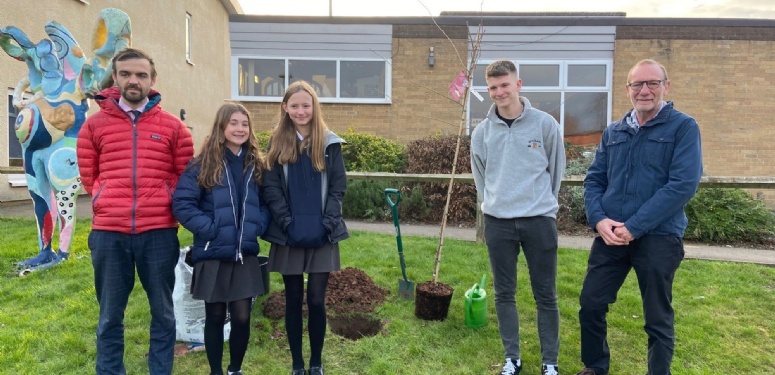 Many thanks to the staff, students and members of our community who joined us to mark Holocaust Memorial Day (HMD) at the end of January. A group gathered to hear the winning HMD poetry read out by the authors of the poems. Congratulations to our winners Emily Webster, Femke Lucking and Jamie Rattray.
A winter flowering Cherry tree was planted so that it's in blossom in January when HMD is marked. The school will meet each year by the tree to commemorate all those that died in the Holocaust and all subsequent genocides, watching the tree grow each year. Below are the three winning poems from our Year 9 HMD poetry competition. Well done to everyone who entered.
First Place - Emily Webster (9L1)
Their lives destroyed and their freedom banned,
One day all their stories washed up on the sand.
Waiting to be found by those passing by,
But nobody stopped not even to cry.
One day you couldn't have felt so alone,
When you'd given all of your blood, sweat and bone,
To the people who would've had you dead in a day,
You wanted the darkness to just go away.
They were locked up, beaten and battered and broken,
Now one day their stories are finally spoken,
And now that we're here they don't have to be scared,
The measure of their bravery cannot be compared.
Second Place - Jamie Rattray (9F1)
Run or hide? This is genocide
Jewish families were petrified.
Tricked, taken and tortured for days
Starved and abused in horrendous ways
Walking round camps, a tensionless mood
Empty, expressionless, silent, subdued
Chilling chambers filled with gas
Death was slow, but fear was fast
Millions died, there was no relief
Beaten and butchered for their belief
Vile and vermin in Nazi eyes
The real vermin - Hitlers spies
This why, every year
We remember what should be so clear
World discrimination must be drained
Third Place - Femke Lucking (9S1)
I once had a tree in my garden,
A tree my father said would grow.
Stretch out of its root confinement,
Stretch up and over our home.
And stroke and hold the hands of the people,
They'd become my brothers and sisters.
The world would be a peaceful bliss,
For as long as the world would continue to exist.
And although my tree is gone now,
His hope for peace remains.
In the heart of me and my people,
It sings as clear as day.
Of course before it's been demolished,
But peace can never be abolished.
I and we shall continue to persist,
For as long as the world would continue to exist
Pictured above (left to right) Mr Swift, Femke Lucking, Emily Webster, Caleb James from Y12 who performed some music for us during the ceremony and Mr Roland Godshaw from Holocaust Memorial Day Portishead, who kindly donated prizes for the competition winners.
Thanks to everyone who joined us to mark this important event.