Gordano School – A Level Press Release 2023 ​​​​​​​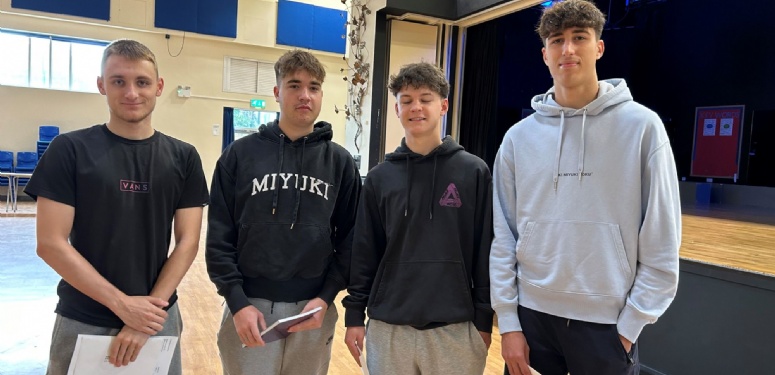 An exciting day as results are received!
Year 13 students at Gordano received their A Level and Vocational subject results on Thursday 17th August.
Headteacher Louise Blundell comments, "We are absolutely delighted to be able to celebrate these results with Year 13 students. As a year group they have shown great determination and resilience following an educational journey where they have contended with many changes and challenges; their GCSE experience was cut short dramatically in 2020, their GCSE grades calculated via Teacher Assessed Grades in 2021 and their experience of external exams limited in comparison to previous cohorts. As a year group they have absolutely met those challenges head on, and we are very proud of their individual successes."
We have seen some stunning achievements across the year group and are thrilled to see students succeed so well across the range of abilities and in such a diverse range of subjects and qualifications.
Top academic achievers in this year group were Sophie Dawson with 3 A*'s (going to Southampton to study Psychology), Georgia Creed with 3 A*'s (going to Birmingham to study Engineering), Christian Leung 4 A*'s (going to Warwick to study Maths, Stats and Econ), Charlotte Caroll 2 A*, 1 A (going to Bristol to study Law), Kip Ridley 2 A*'s, 1 A (going to Durham to study Finance). Students studying vocational courses also achieved strong results.

Many of our students have also secured highly sought after places on Higher Apprenticeship courses – Emily Beaton, Emma Bennett and Liam Duncan in Accounting, Adam Isles at Jaguar Landrover and Alex Bolt with the Police.
The vast majority of students who applied to university have now had their places confirmed – most of these being at their first-choice universities. We have 22 students from last year's cohort who will also take university places this year after completing gap year activities.
Director of Sixth Form, Philippa Ramsay, comments, "We are delighted that so many of our students have already secured their places at university or in other training or employment – for which applications are hugely competitive. Now that they have their exam results, for any student who has still to decide on their next pathway, we will continue to assist them to make informed next steps.