Activities Week 2022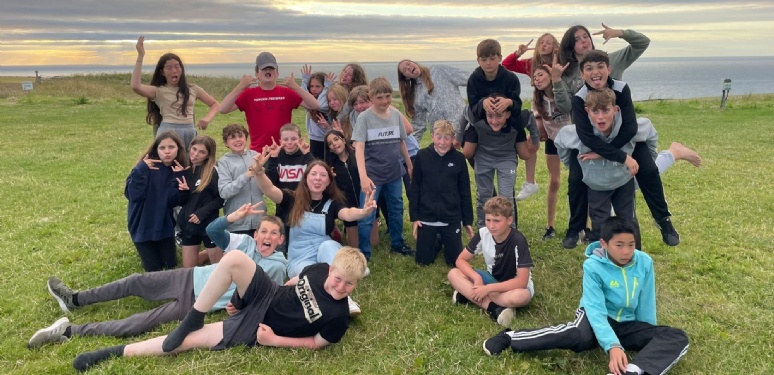 As the summer term came to a close, Year 7-9 enjoyed Activities Week spanning from the 4th to 8th July. A favourite experience for many young students, this week saw trips to various beautiful locations around the UK, as well as fun activities to be completed on the school site.
Many of the Year 7s attended a three-day residential trip to Pembrokeshire in Wales. This trip allowed them to explore the Welsh countryside and enjoy team building activities, with friends they had made over the past year. A stand-out memory for many was the assault course, which saw the students returning to their rooms covered in mud.
Alongside the residential trip, the Year 7s also completed activities on the school site and around Bristol. These ranged from tower building, with just paper and cello-tape, to a trip to Bristol Zoo, before its permanent closure in September 2022.
The Year 8s spent their Activities week doing various day-trips, as well as school-based activities to promote team-building and giving back to the community, including some very enthusiastic litter picking!
The students also visited the Big Pit in Blaenavon, Wales. The industrial heritage museum which opened in 1983, was a working coal mine for 100 years, opening in 1880 and closing in 1980. The site is now an informative, immersive experience about mining, which was enjoyed by the Gordano students.
A trip to Thorpe Park was also available to the Year 8 students. Although a long day – catching the coach at 7:30 and not returning until 19:00 – the students (and staff who accompanied them) had a jammed packed time of adrenaline and excitement, as they explored the various rides the park had to offer.
As well as the Give Back activities on the Gordano site which were enjoyed by the younger years, the Year 9 students were also lucky enough to spend a portion of their week in Cornwall, staying at the Penryn Campus of the University of Exeter and Falmouth University. Here they enjoyed beach activities with Elemental UK, as well as workshops organised by the University of Exeter and Falmouth University, and beachside BBQs.
Finally, the Year 10 students used Activities week to explore their future career paths, partaking in work experience opportunities. The students were able to choose their own work experience, to ensure they shadowed the work of professions they were interested in learning more about. These ranged from carpentry, veterinary experience and making chocolate, with the students finding it a useful and eye-opening week.
Activities Week at Gordano proved to be an enjoyable experience for all involved, and we are sure they have created lifelong memories.