A Level Results show off student success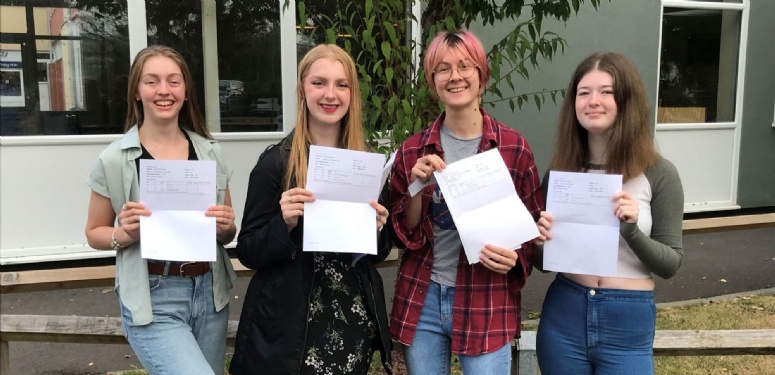 Year 13 students at Gordano received their A Level and Vocational subject results on Thursday 18th August.
At A Level, 36% of results were at A grade or above, 62% of the grades achieved were in the A*-B range and 83% of all grades were at C grade or above.
31 students achieved 3 A grades or higher, with seven students achieving three A* grades or better. Amongst these are Maddy Browne, achieving 2 A*s and an A, allowing her to go on and study English at the University of Cambridge; Phoebe Delafaille, with three A*s and a C, who goes on to study Medicine at Manchester University; Megan Jefferies, with four A*s, who will study Biochemistry at Brasenose College, Oxford University; Isabella Lawrence-Tarr, with three A*s, who will study Psychology at Cardiff University following a gap year working in education; and Susanna Ogden, with three A*s, with who will study Natural Sciences at Nottingham University.
This is the first time in three years that grades have been awarded from examinations that have been independently marked, with the national picture planned to be a 'half way' point between the last 'proper' exams in 2019 and last year's 'teacher assessed' grades.
Headteacher Tom Inman comments, "We are delighted to be able to celebrate these results with our wonderful Year 13 students. They have been the year group probably most affected by COVID, with their GCSE experience cut short dramatically in 2020 and their studies over much of the last two years affected by the pandemic.
"At all key levels, our A Level and Vocational results are higher than in previous 'exam' years, however this year should be a year to admire the tenacity of our brilliant students in the face of such adversity, rather than debate national grade comparisons with other years, which does them such a disservice. We have seen some stunning individual successes at the top end, but, as a truly comprehensive Sixth Form, I am so thrilled to see students succeed so well across the range of abilities and in such a diverse range of subjects.
"We are incredibly proud, not only of their academic performance, but also of the students' wider achievements and the wonderful young adults that they have become over their time at Gordano. My thanks also to our brilliant team of hugely committed staff who have supported these students through their time with us, and especially over the turbulence of recent years".
The vast majority of students who applied to university have now had their places confirmed – most of these being at their first-choice universities.
Head of Sixth Form, Jeanne Fairs, comments, "We are delighted that so many of our students have already secured their places at university or in other training or employment. We have been hugely impressed by the mature and upbeat way that our young people have responded in these very challenging circumstances and the way in which they have supported each other as a community. We will continue to work with every young person to support them on to the next steps that are right for them and look forward to following their further progress in the years to come".