£3,200 Raised for Charity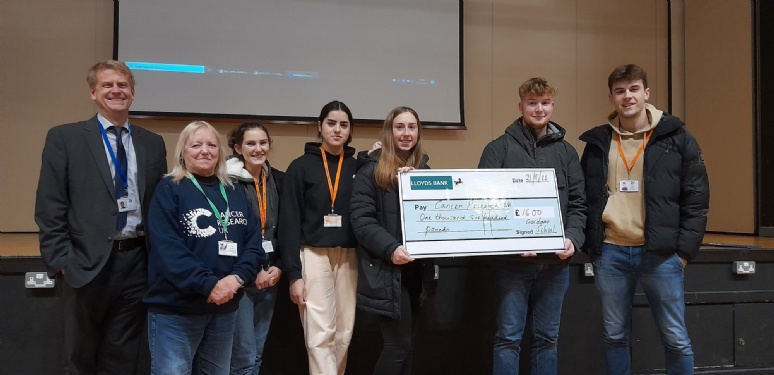 On 21 November 2022, Gordano Sixth Form students had the pleasure of presenting Mend the Gap and Cancer Research with £1,600 each, raised by their efforts in RAG week. This week, which ran from the 17-21 October saw the students and Sixth Form staff dressing up each day, as well as running events which would allow them to donate money to their chosen charities.
Organised entirely by the Sixth Form, RAG week allows the students to express their creativity and flair with different events throughout the week. Some of the biggest events; namely the Rag Fayre, Student V Teacher Dodgeball and Ragfest – also involve the younger years with the events being designed to entertain them. Sixth Form students and staff also faced the challenge of different dress-up themes throughout the week, to try and maximise the donations to the two charities.
In an assembly at the start of this week, Angela Hearn from Cancer Research and Naftali Manddy Onchere from Mend the Gap were presented with cheques by the students. The students also had the opportunity to further educate themselves on the important work the two charities do.
Co-directors of Sixth Form Tom Heysham and Pippa Ramsay commented on how proud they were of the students for their involvement in the week, with Tom noting "the sheer amount of planning and preparation which went into the week is a testament to the students' understanding of making a positive difference. This was particularly evident in the sense of leadership the students had with the lower school at the Rag Fayre; it gave them opportunity for personal growth whilst educating the younger years on the important work our two charities are doing".
Pippa Ramsay also mentioned the monumental effort of the Sixth Form cohort and was "impressed by how the students pulled together in a post Covid-19 world." She continued:
"Every year RAG week gives students the opportunity to organise, perform and excel in creative ways. This year in particular I was impressed by the involvement of those students who were more reserved in the lower school, and how they rose to the challenges the week presented. They should all be pleased with the effort they put into the week, and this money they have raised for charity is evidence of their hard work".