Gold DofE Glory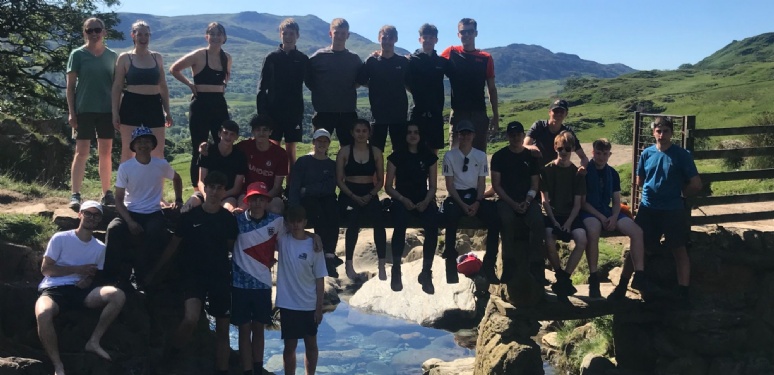 Recently, 40 Year 12 students at Gordano School undertook the Gold Duke of Edinburgh assessment. The students were split into 7 teams to tackle the momentous challenge, which took place in the Snowdonia National Park in Wales.
For the Gold Duke of Edinburgh award, participants must walk for a minimum of 4 days, and 3 nights, with 8 hours planned activity each day. This roughly works out at 20KM of walking per day.
The Gordano cohort started their walk in Betws-y-Coed, a small village and community in the Conwy valley of Wales. Due to its closeness to the Snowdonia national park, it is a popular spot for walkers and proved to be the perfect beginning for the expedition that followed.
The 7 teams all took different routes around the national park and persevered brilliantly. One of the most challenging tasks for young people to complete, the teamwork and resilience shown by the students really highlighted their positivity in completing the challenge, and allowed all of them to pass their expedition with flying colours.
The weather was mostly good for the young explorers, however there were some tense moments – particularly when the wind on the first night flattened one tent! The visibility proved to be most challenging in the first couple of days, particularly when the students reached higher ground. Luckily, the visibility improved as the windspeed fell, allowing for the groups who summitted Snowdon to have some wonderful views from the top.
On the final day of the trip, the teams joined the tradition set by those who completed the Gold Duke of Edinburgh previously, by swimming in the waterfall above Beddgelert, a small village in Gwynedd, Wales. This allowed the students to cement the lifelong memories they made throughout the trip, and to relax after their four-day journey.
Headteacher Tom Inman - who accompanied the students on the trip – commented on how nice it was to run the Gold Duke of Edinburgh expedition after two years of Covid interruption. He also extended his thanks to Kaf and John Farragher, who were the assessors of the trip.
All students who completed the Gold Duke of Edinburgh expedition should be proud of their huge achievement and the resilience it shows.