Creative Arts Festival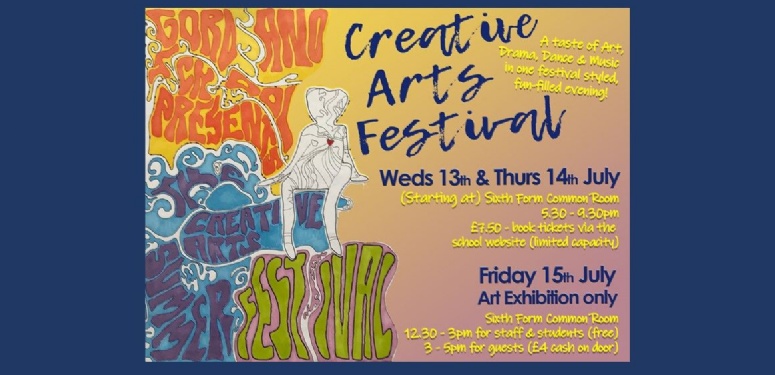 The Gordano School Creative Arts Faculty is delighted to bring you the final event of the year - The Creative Arts Festival on Wednesday 13th and Thursday 14th July 2022.
Don't miss this taste of Art, Drama, Dance and Music in a festival styled, fun-filled evening, in four venues across the school. Starting in the Sixth Form Common Room at 5.30pm, the event runs until 9.30pm so that there's plenty of time to see the work produced by our talented students. Tickets are limited so book yours here.
Watch our short video to find out more.
Friday 15th July - Art exhibition only:
If you're unable to make the evening events, there's another opportunity to see the Art exhibition in the Sixth Form Common Room on Friday 15th from 3pm. The exhibition will be predominantly A-level work with a sprinkling of Year 11 work. Please come and enjoy the work produced by our students during these very difficult couple of years. External guests can visit from 3pm, there is a £4 entrance fee on the door (cash only please).
We hope to see you during the festival!