Celebrations for the Creative Arts Festival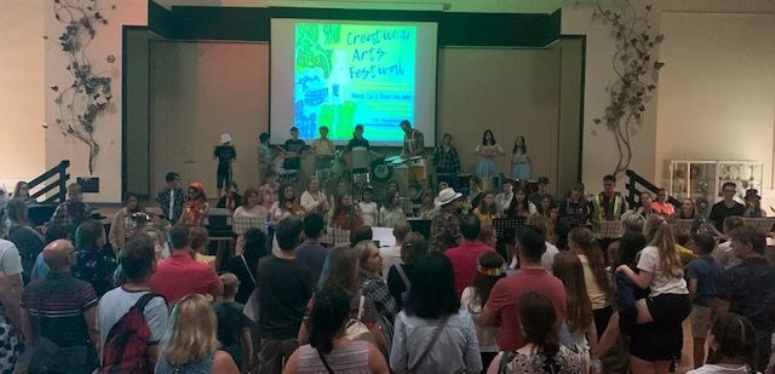 The Gordano School Creative Arts Faculty had great success due to the Creative Arts Festival, which ran across Wednesday 13th and Thursday 14th July 2022.
The festival involved over 200 students, and showcased performance art, drama, music and exhibitions comprised of student work.
The art on display was mainly contributions of A level students who, after three years of Covid-19 restrictions, were pleased to exhibit their work to their peers, as well as staff, family and friends.
The art in the exhibition varied from photography, to large paintings, as well as in-depth analyses of different mediums. One student showcased a large sketchbook, containing an exploration of oil pastel images.
The performance arts aspect of the event was also well received, with audiences filling the Sixth Form hall and drama studio to immerse themselves in student-led performances and dance groups, as well as individual acts.
The Main Hall was home to many music groups, with choirs and bands performing to the growing crowds. These groups allowed the younger years to get involved in the important event, exposing them to the art they could be creating in a few years' time.
The festival attracted large groups of people, with hundreds of friends and family members of the students appearing at the school to show their support. Many of the staff at the school also enjoyed the festivities, stopping by the Sixth Form Common Room to get a quick look at the exhibition.
An excellent and popular way to showcase the talent of the students, we are sure the Creative Arts Festival will be an important memory for all those involved. The staff and students behind the impressive feat should be proud of what they achieved.